The aftermath of speaking out is the beginning of healing: Conversation with Hildah Lumati
Today's conversation is with Hildah Lumati. A 25-year-old lady who is passionate about telling authentic stories. A Graduate from Africa Nazarene University with a Bachelor of Mass Communication (Broadcast) and currently the Founder and C.E.O of UNFOLD WITH SPE.
What is UNFOLD?
UNFOLD is a platform that allows people to come on board and share their life experiences and journey For God's glory. Our main aim is to inspire, encourage, educate and create awareness. We believe that life is an unfolding narrative; therefore, there is a story to tell in every chapter. Both Young and old are welcomed.
What inspired you to start UNFOLD?
The aftermath of speaking out is the beginning of healing. God has been faithful to me. I realized many people come and open up to me. My advice would at least encourage someone. I love positive vibes. I then decided to create a platform where thousands would feel free to come to share their stories. Through that, lives have been transformed. I find fulfilment when hosting individuals who are more than willing to let the world know that God is faithful.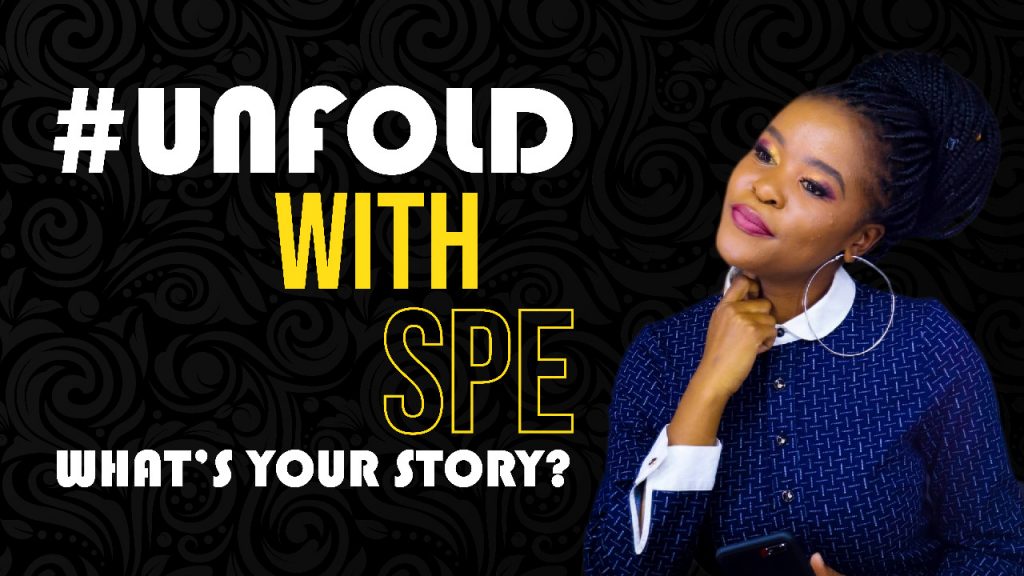 What has your journey been like so far with UNFOLD?
The word is INCREDIBLE!!!! I experience God's favour on a whole other level. Of course, the journey is not that easy; we fasten our seatbelt and move regardless. I am content and happy. God has blessed me with a very supportive team. From family, workmates to Friends. It feels good to sit in that magical seat at the forefront of authentic stories that break the silence about Kenya's stigmatized topics.
Have you ever been discouraged or felt that you would not make it?
Oh, my goodness!!! A million times. It Is so difficult to start something, but once you take a step of faith, that is it!!! My pillar has been GOD. I run to him whenever I feel discouraged. I have had times I felt nothing is working out at all. I have cried, had conversations with myself, doubted myself and asked God why!! But somehow God renews my strength. I have learnt to fix my sleeves and accept that the road will never be smooth. Obstacles are there to make you stronger!! Everything happens for a reason and guess what! For your Good.
What are the main challenges you face when telling stories on UNFOLD?
Finances: UNFOLD on its own I see it as a huge platform. Therefore, we put so much energy and time in it. We go the extra mile. This means money is needed—a good amount of money. The struggle is real, but somehow, we still manage.
Technical Difficulties: Some videos have not made it to YouTube due to technical difficulties.
Willing Individuals: It is hard for so many people to open up because of the fear of being judged. So, finding People Who are ready to be seen and confidently share their stories is something that is not easy at all.
What advice would give anyone trying to venture into their passion?
GO FOR IT!!!! THE TIME IS NOW. YOU NEED TO BIRTH THAT POTENTIAL GOD HAS
PLACED IN YOU!!! Do not look at the circumstances around you but instead use what you have. You have a purpose!!! You can take your vision, build it into something remarkable and reach heights you never imagined!!!
What has been your significant lessons since you started UNFOLD?
Patience is key. Do not rush God. He knows what is convenient for you and when and he will do exceedingly.
Everyone has a story. You cannot tell until you hear it. Many people are going through a lot, but your Ishmael mistake cannot disqualify you from your Isaac Promise.
Be Kind. Everyone is struggling with something. Be a blessing.
God will put you in the wilderness to mould you for the promised land. TRUST THE PROCESS.
What has been your most outstanding achievements?
I AM A BRAND!!!!
THAT SAYS IT ALL, AND I AM SUPER PROUD OF MYSELF.
I am taking UNFOLD to the Next Level. I am looking forward to creating employment.
Every wound there is a scar, and in every scar, there is a story. A story that says 'I SURVIVED' What is your story?

Hildah Lumati
The Acts 26:16 'Now get up and stand on
your feet. I have appeared to you to appoint you as a servant and as a witness
of what you have seen and will see of me.